What size van is best to hire when moving house?
Over all of our 45 years in business (and counting!) at Intack Self Drive, we've had plenty of experience in catering to both commercial and private customers. While it's true that our van hire services are frequently used by commercial customers, plenty of private customers find them exceptionally useful too, most often for moving house. And if you've ever had to move before, or you're planning on doing so soon, it's likely that you'll have asked yourself: what size van is best to hire when moving house?
To be honest, there's no one-size fits-all answer: it really depends on what's being moved, and where it's being moved from. The heavier the load, and the farther you have to take it, are amongst the key factors that will affect whether you need a van with a short wheelbase, one with a long wheelbase, or a Luton van.
Short Wheel Base
Short wheel base vans like our panel vans might not seem like the first choice for moving between properties, and to some extent that's correct - they're not necessarily the ideal option for large house moves. However, a panel van excels at moving around some of the bulkier bits of furniture like sofas and white goods, which can be handy if you're doing any partial moves. If you're moving to a new flat for example, but the fridge and sofa just won't fit in your car, you'll often find a panel van comes in useful! This equally applies if you've already moved, but decided to get rid of any excess bits of bulky furniture - whether that's by selling them on to new owners, or just hauling them off to be disposed of.
Lots of parents also find panel vans useful for single-use trips to help their children move into university. Generally, students moving into halls of residence don't tend to take a massive amount of luggage with them (since it's a relatively short stay, by housing standards), so a short wheel base van is both sufficiently roomy, and nicely cost-effective.
Long Wheel Base
If you've had a quick look at our van hire options already, you'll already know we have several options for our long wheel base vans, including our 3.2m long wheel base hi-top van, and our 4.3 long wheelbase jumbo panel van. The great thing about a long wheelbase van is that it's a versatile choice, excellent for anything between just transporting a few hefty belongings, all the way up to a full-scale move between properties.
Its sizeable capacity also allows you to load a significant bulk of smaller items in cardboard boxes, all the way up to larger goods like microwaves, fridges, a dining table and chairs, sofas, beds, cabinets and drawers, and flatscreen TVs. Multiple white goods may sometimes be a challenge to take in a single go, depending on what else you've got to transport.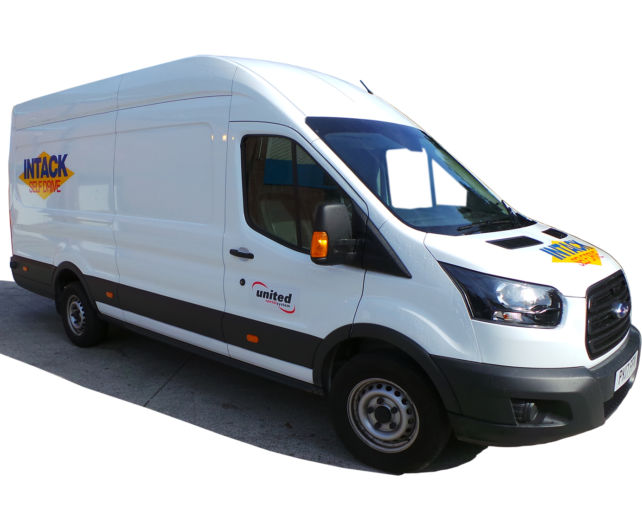 It's great for moving things out of a single or a double bedroom, which means it's a popular choice for people leaving a small studio flat, or cleaning out a garage. And once again, they can be handy for children flying the nest; if they're not going to halls, but rather directly to their own residences (rented or otherwise), it gives you a bit more flexibility to take bulkier items with them so that they can set up the new living environment permanently.
Luton Box Van with Tail Lift
Named for the town in which they were originally made, the Luton box van is the biggest and most heavy duty of our van hire options, and the perfect vehicle for full-scale house moves - whether that's for singles, couples or families. Whether you're moving out of a small flat, a multiple bedroom flat, or a house, it can easily accommodate various different bits of furniture, household appliances, desks, sofas, chairs, tables and beds. Bulkier items like white goods and chests of drawers can be easily accommodated too. If you're living in a smaller property, you may well find you can easily get the job done in one go, and even if you're moving from a large scale property, it's likely you'll only need to make a couple of trips at most.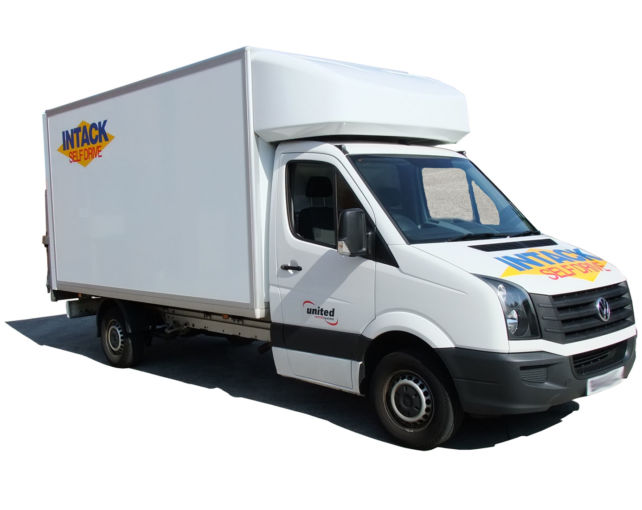 And if you're moving a small business, with something as roomy as a Luton van, you can generally get all your equipment and furniture into the van in one go. The specialised tail lift means they're great for transporting large, awkward or delicate pieces of cargo - such as pianos or jet skis (off the top of our heads). Many 1-2 bedroom flat owners - and plenty of house owners - opt for an LWB Luton.
If you need a bit more specific guidance, we're always happy to advise with our own experts right here at Intack Self Drive. We've been in the business for over 45 years and counting, so you can count on us to know exactly what you need. On the other hand, if you're a professional fleet manager planning who's on making regular deliveries (bulky or otherwise) in the course of normal business operations, you might want to look at our flexi van hire options! Give us a call on 01254 57811, or email us on reservations@intack.co.uk. We're here to help!