What to do if you have an accident in a hire car
Being involved in a crash can be immensely stressful at the best of times, but the pressure can really feel like it's mounting if the vehicle in question is a hire vehicle. Here at Intack Self Drive we've got over 45 years of experience providing car hire, van hire and minibus hire services, so you can count on us to know exactly what to do in the event of an accident.
The first bit of advice is one of the most crucial, the most obvious, and arguably the most difficult - don't panic! It's understandable to be agitated in these sorts of situations, but if you're too stressed out there's a danger that you can end up making a mistake, or forget to do something important that could end up causing you trouble later on. To help you minimise that possibility, we've put together this handy guide, so that you know exactly how to respond in the event of a crash.
In a nutshell, here's what to do in a crash
Stop the vehicle. It's illegal not to stop - if you zoom off, you risk penalty points, a fine, or even disqu­ali­fica­tion!­
Switch off the engine and turn on the hazard lights
Check for any injuries, and ensure all passengers are out (if it's safe to do so)
Call the emergency services - firstly police, then ambulance (if applicable)
Give your details to anyone else involved
Collect details from everyone else at the scene
Take pictures of the scene, including all vehicles involved
Contact your insurer (or the hire company)
What to do immediately after an accident
Stop your vehicle where it's safe to do so, and get out. Don't forget to put on the handbrake, as further accidents have been known to happen when damaged cars have started rolling down hills or slopes. As long as you can safely move your passengers, ensure that everyone else gets out too, and check for injuries. Once everyone is safe from immediate danger and the vehicles are secure, you can start making calls to the relevant emergency services and the hire company, if applicable.
Pets
If you crashed on the motorway and there are any pets in your vehicle, the Highway Code states that they must be left inside, to prevent them from potentially running out into the road and causing another accident. This applies unless there is a clear and immediate danger - such as a fire inside the vehicle. On the other hand, if the crash was on a residential road, you can choose to remove pets from the vehicle - if it's safe to do so, of course. Wherever the crash occurs, though, they must always be kept under strict control.
What not to do
Don't give cash or money to anyone at the scene, as this is not a guarantee they won't pursue a claim against you anyway. If they demand it from you, that's a sure sign of suspicious behaviour.
Similarly, don't follow anyone away from the scene, such as to a cashpoint. Wait for the relevant authorities or services to arrive.
Don't apologise or admit fault at the scene, as it could be used against you later.
Don't drive away unless you feel you are in immediate and tangible danger from another person. As soon as you can, stop and let the police know.
Who to call immediately after an accident
Depending on the severity of the collision, you may need an emergency response. If so, it's wise to call the police first.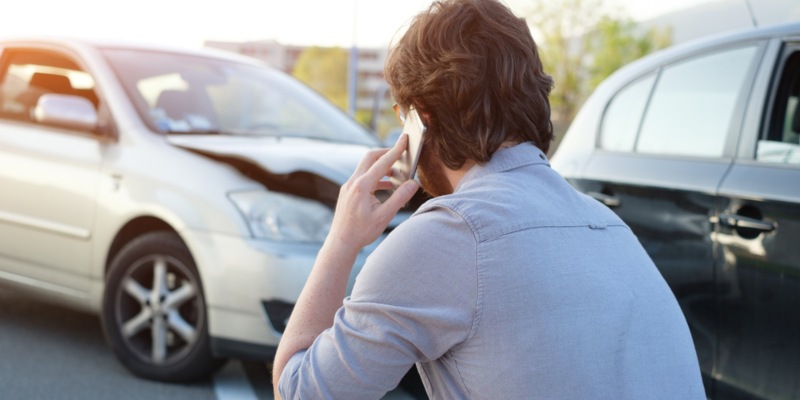 You should definitely call the police if:
A vehicle is blocking the road
You think the crash was caused deliberately, for example as part of a Crash for Cash scheme
You have reason to believe another driver may be affected by drink or drugs
Another driver has fled the scene
Once the police are notified, make sure to call an ambulance if anyone has injuries which require urgent medical attention.
Collecting details and evidence at the scene
Whether you're driving your own vehicle or a hired car, bus or minivan, it's always a good idea to record what's happened in as much detail as possible. The better you're able to do this, the better chance you have of successfully making an insurance claim (or successfully defending yourself from one).
You're legally obliged to give your name and address to anyone involved. You'll also still need to stop and provide your details even if you crash into an inanimate object and there aren't any other people involved. If you hit a parked car for instance, you'll need to leave your details on the windscreen, or some other place where the driver can find them.
What you need to collect from other people
You'll need names, addresses and contact details from drivers, passengers and witnesses
Ask everyone else for their car insurance details, and try to establish whether they're the registered keeper of their vehicles. (It's likely they will be.)
Ensure you don't skip these steps even if you think there's no harm done, because it's possible that at the time of the accident you may not realise the full extent of your injuries.
Further information you'll need
Make a note of the registration numbers of all vehicles (which you'll find on the number plates) as well as their make, model and colour
Record the time and date of the crash
Note down the weather conditions, as well as anything unusual about the road quality or the lighting
Make a list of the damage to vehicles, and any injuries anyone sustained
You may find it helps your claim to make a sketch of the collision, showing the positions of all the vehicles involved
Who to call once you've got the details
If it's your own personal car, you'll need to call your insurer within 24 hours, and give them as much detail about the accident as possible. As we touched on above, it's illegal not to let them know, and that applies whether or not you intend to make a claim.
If you're driving a hired vehicles on the other hand, such as one of the cars, vans or minibuses we offer here at Intack Self Drive, then you'll need to let the hire company (us) know as soon as possible. We'll then handle the recovery and repairs of the hire car if necessary, and iron out the details of the insurance.
An important note to mention - like most rental companies, we won't refund anything that's not been paid through official channels. This is one of the reasons why it's so important not to give money to anyone on the roadside!
If it all sounds a little scary so far, don't worry. Obviously we wouldn't be over the moon at the news of any collision, but you can always count on our team here at Intack Self Drive to give you friendly, professional help and support, whatever the circumstances of your collision. And if you've bought a Loss Damage Waiver in advance, you'll be protected against the worst of the costs. That's what it's there for!
How a Loss Damage Waiver helps you
We've discussed the full details of the Loss Damage Waiver in a previous post, but essentially you can rest assured that this kind of scenario is exactly what it's designed for. If you purchase the LDW when you hire a car, van or minibus from us, it reduces the standard excess on that vehicle down to £95. That means if you're involved in an accident, you've got peace of mind that it won't cost you the earth.
You can find out more details about the LDW in the post linked above, or if you want any specific questions answered, you can always feel free to give our team a call on 01254 57811. On the other hand, if you're ready now to take advantage of our great range of car hire, van hire or minibus hire services, you can start browsing on our site today!
Have you heard about our flexi hire service? Essentially, it allows you to enjoy all the benefits of longer term vehicle hire at reduced rates compared to daily or weekly prices. The minimum hire period is just 28 days, and after that you can return the vehicle whenever you like. It's the perfect option if you need extra flexibility for uncertain schedules, whether they're work-related or personal in nature.